Location! Location! Location!
Discovery Ridge is a neighbourhood being created in the centre of Corner Brook, Newfoundland Labrador with access from Corporal Pinksen Drive and Wheeler's Road.
Discovery Ridge is just "up the hill" from Grenfell Campus-Memorial University, Corner Brook High School, Academy Canada and recreation facilities- pool, arenas, walking track, fitness centre, & curling club. And it is next to the new Long Term Care Centre and the site of the new hospital being constructed.
If you are looking to get out of town, the snowmobile trails are nearby or hit the road with close access to the Lewin Parkway and Trans Canada Highway.
A True Neighbourhood
An interesting feature of this neighbourhood is the different options for housing – single homes, semi-detached homes, townhouses, condominium building, and apartment buildings. It will allow different sizes, layouts and price points for a variety of people.
The neighbourhood is designed with large, deep lots so there is plenty of room for sheds, treehouses, fire pits … or whatever your dream backyard includes. Also, the neighbourhood will have mostly flat lots, a feature difficult to find in our beautiful city that sits on hills surrounding the ocean.
Lot Pricing and Dimensions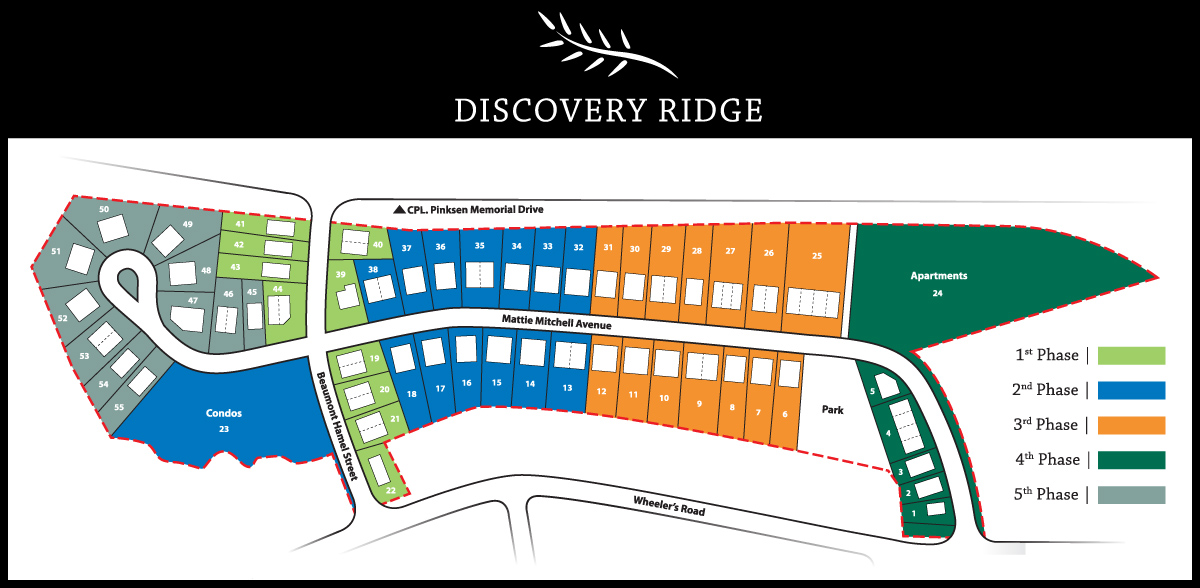 Your home, your choice
If building a single house, you choose any house plan that best meets all your needs and desires in a new home.
You can even choose a different contractor than Sleepy Cove Developments to build your home.
The neighbourhood has restrictive covenants to ensure the quality of the neighbourhood design.  It also requires a minimum house size for the different sized lots.
Lots Available
Lots ready to build are on the upper part of Mattie Mitchell Avenue:
6-18 with your back yard facing South and Wheeler's Road.
28-36 with your back yard facing the city view and Corp Pinksen Rd.
Remax Listings for Discovery Ridge
Upon purchase of the lot, an owner has 1 year to complete the house build.
Sleepy Cove Developments Construction
If you choose Sleepy Cove Developments as your contractor, we have a set a standard of finishes in which to price our home construction.  You can choose upgrades if you so wish. SCD House Construction Details for Discovery Ridge
A house tends to take up to 16 weeks to build and complete for ownership.
Because each house is unique, we will price construction of your home based on your house plan and your choice of finishes.
Condo Living
Existing
Discovery Condominium Corporation is a 4-unit building on slab.  Each unit has a separate entrance and no common space. The condo features 1100 sq ft open living space, 2 bedrooms, 2 baths, a garage, and a double driveway. Condo fees are $270 monthly which covers all exterior maintenance like snow clearing, lawn, building, patio, and fence maintenance.
For Sale: 11 Mattie Mitchell Avenue
Future
Plans for Jameston, a 40-unit building, include 1, 2 , 3 bedroom units, a common outdoor space, underground parking, and storage locker per unit. Jameston Site Plan
If you interested in condo living in the new few years, please contact Wayne Park or Trina Sheaves with ReMax for more details.
Wayne.Park@remax-realtyprofessionals.com        c. 709-630-2412
Trina.Sheaves@remax-realtyprofessionals.com    c. 709-216-7606
Apartments
Apartment buildings will be constructed in the upper section of the neighbourhood in lot 24 towards the end of the development of Discovery Ridge.
Current Sales
Pre-Sale: Semi-detached Bungalow on Slab
These 1200 sq ft units with open living space, 2 bedrooms, 2 baths and a garage are beautiful and perfect for independent retirement living. Construction will start when units are sold. See the listings for 62 Mattie Mitchell or 64 Mattie Mitchell.
Land
Lots 6-11, 13- 18, 28-31, 33-36
Re/Max listings for Discovery Ridge 
Contact Wayne Park or Trina Sheaves for more details.
Wayne.Park@remax-realtyprofessionals.com        c. 709-630-2412
Trina.Sheaves@remax-realtyprofessionals.com    c. 709-216-7606
Sleepy Cove Developments
If you would like Sleepy Cove Developments to build a home in Discovery Ridge, we can help you find the house plan and lot that fits for you.
Trina Burden, Project Manager, can provide you with as much detail as you need to make your decision.
Office Location
8 Gullage Ave. (within Brook Construction)
Corner Brook, NL A2H 6H6
Phone: 709-634-9705 ext. 209
Email: trina@sleepycove.ca
Sleepy Cove Developments is based in Corner Brook, Newfoundland and Labrador, and is affiliated with Brook Construction.
Trina Burden
Project Manager
Ted Burden
Construction Lead